Saturday afternoon I treated myself to an at home matinee of the 1959 marketing classic The Tingler.
William Castle who made quite a name for himself with marketing ploys to attract people to his films directed this movie. His has done such stunts as offering insurance policies against dying of fright during the screening, having paper skeletons pulled on strings over the audiences heads and for The Tingler he had some seats in some theaters rigged with buzzers to surprise people during key moments of the film. Naturally all this does not translate to home video.
The Tingler stars Vincent Price as Doctor Chapin a pathologist who, in addition to his duties seeing to the remains of executed criminals,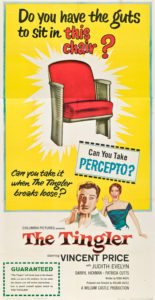 is researching the strange effects of people in acute fear. He has a dedicated lab assistant, a shrewish wife, seemingly a common character type in a Castle film, a new friendship with the brother-in-law of a recently executed murderer, and to help him with his research a nifty new drug that induces nightmares, LSD 25.
Chapin's research not only proves that there is a previously unknown physical effect from unreleased fear, but that it is a living creature found in all of us, the Tingler. Most of the film is actually melodrama about the Chapin's failing marriage, and mysterious scenes that keep the audience guessing just how far will he go for his research. Is he dedicated or a mad scientist?
This film is worth watching, but the concepts are rarely carried through and it does cheat with its plot twits. That is to say it doesn't set up the twists but rather springs on the audience without the benefits of Chekov's gun. The movie does have one fairly original set piece in it. There a sequence where a woman is driven into utter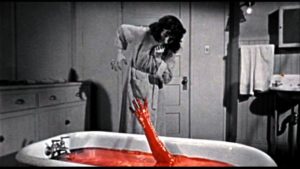 terror and in those scenes while the film remains in black-and-white the blood is a bright, brilliant, saturated red. Here's a still to show you. Now, remember this was 1959; there were no digital effect to make this now easy process possible. Castle achieved this my making everything, including the actress, on the set monochrome so while the film is color film only the blood is appears to have color.
The Tingler is currently streaming on Shudder.