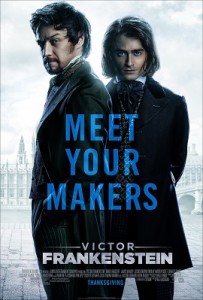 I have always been a fan of  Frankenstein, through the Universal series, the Hammer series, the novel, and various interpretations and derivatives this is a story I have enjoyed. Naturally a big budget version comes along my sweetie-wife and I made it a Thanksgiving event.
This time, the story has been transported to victorian England and we witness the event from the point of view of Igor. (There are occasional violations of the POV, but aside from the odd side trips everything is about what Igor sees and hears and his reactions.)
If you are going to see a film about the monster rampaging about you will be sorely disappointed. Like many recent versions, the script focuses on the characters and what drives them to such lengths of mad action. There are plenty of hat-tips to earlier productions and the novel. For example, you'll find both the names Victor Frankenstein and Henry Frankenstein used as characters in the film. Also, Victor refers to himself as a modern Prometheus, which is not a reference to Ridley Scott's terrible movie but the subtitle for Shelly's original work. There is even a throwback to the Gene Wilder's Young Frankenstein.
Andrew Scott plays a brilliant detective trying to piece together the events from the outside, and in in his performance I found he played a better 'Sherlock Holms' styled character than a Moriarty, which of course he plays in the BBC production Sherlock.
Sadly while the film has many fine performances and is well shot and produced the script is a bit of a muddle. The author didn't seem to have a final version in his head for what story he wanted to tell. Elements come and go without much impact on each other and there is a love interest that seems to exist solely so the film can have a female character.
In the end I enjoyed watching it and I enjoyed the references for sharp fans of the material, but I can't say it will become part of my collection. The plot is too unformed and there are too many elements that feel forced into the story.