Even though the 60s, or at least the start of the 60's, now lies fifty years in the past, we are rapidly approaching SF films that are well known, and quite familiar to a larger audience. This of course makes the selection of just two as 'most influential' even more fraught with controversy and argument. Good!
The 1960's is a rich field to for SF movies, particularly if we keep in mind a wide definition of SF that may include many films not generally thought of as part of that genre.
For example Dr. No, released in 1962, not only launched the Bond film franchise that runs strong to this very day, but it also birthed the entire super-spy genre which morphed, with Tom Clancy's help, into the techno-thriller genre, a genre that is SF wearing fancy dress. By any reasonable observation and definition Dr. No is both SF and influential. So read one and see how I have selected one films that I think will scarcely surprise anyone, and another that will be received quite the opposite.
2001: A Space Odyssey – 1968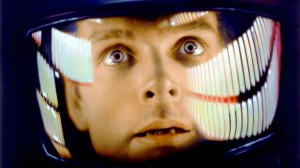 Stanley Kubrick's brilliant and baffling masterpiece, 2001 is truly not only one of the most influential SF films of the 1960s, it is one of the most influential films of any genre of all time. It is groundbreaking in its style, scope, depth of concepts, technical mastery, and sheer artistry. Coming at the end of the decade, this movie raised the bar on what could be expected of a science-fiction film. Where Forbidden Planet brought in literature, 2001 demonstrated that SF, the genre of ideas in print fore decades and decades, could also be the genre of ideas on the silvered screen. Eschewing a traditional plot driven narrative, this film took us from the dawn of humanity through its eventual evolution beyond the cradle of Earth. It did this will a level of technical competence that forever changed what would be expected of a major SF film and set the stage for the dazzling spectacle in the next decade of Star Wars.
Co-written by one of the grandmasters of hard SF (science-fiction that is devoted to scientific accuracy) Arthur C Clarke, 2001 took a solid believable ground in science, capturing the realities of projected space-travel with a near documentarian style, and made this all accessible to the general public. I have twice seen this film screen in theaters and both times the audience is held in its powerful and hypnotic grip. While I prefer my films to have a more traditional narrative, I can see and appreciate the art, power, and brilliance exhibited in the film.
My second film, released the same year, is about as far as you can get from 2001: a Space Odyssey. This movie is a film assembled by amateurs, shot on grainy poor stock, limited in scope, with a traditional narrative about survival, and yet it is a small independent film that shook the foundations of film making and spawned a new genre unto itself.
Night of the Living Dead – 1968
What, I hear you scream, that's not a science-fiction movie, that's a horror film, a zombie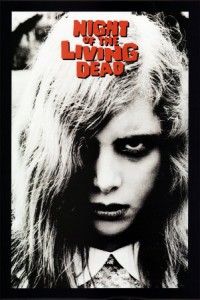 film! Yes it is both of those things, a horror film, just as Frankenstein was a horror film, and it is not just a zombie movie it is the progenitor of all modern zombie movies. It is also, quite clearly, a science-fiction film. First off, co-writer and Direct George A. Romero has mentioned in interviews that the inspiration for this film was Richard Matheson's novel, I am Legend, a story about a world overrun by scientifically explained vampires. In the film Night of the Living Dead, quite unlike Romero's other zombie films, there is a clear explanation given for the rise of the dead and their transformation into murderous cannibals – radiation from the Venus probe. This radiation is what 'activates' the ghouls' brains (the term zombie is never used in the movie and was grafted onto these revenants later) and it is what destroyed the brain destroys the ghouls. The cause and explanation is grounded in a scientific reason, though it is terrible science. So, like Dr. No, this is a movie that one rarely thinks of as SF, but clearly falls within those borders.
It's influence would be hard to overstate. It has been called the most successful independent film of all time. (Only a mistake in the editing room prevented Romero and company from being richly rewarded for their creation and instead plopped the film directly into the public domain.) Where Dr. No spawned a single franchise and a fad, that quickly died out, in super-spy movies, the zombie films not only continues to be popular, the tropes of the zombie movie can often be found in other films far afield. The scene in Burton's version of Sweeney Todd where the 'mental' patients attack their doctor is straight out of any zombie movie. The very concept, one that didn't exist in 1967, has fully permeated our society today. Quibble all you like, I do not see how you cannot rate this as one of the most influential SF movies of the 60's or of all time.