So this past weekend I ended up watching a fairly stupid film with a friend of mine. After watching a documentary on Australian Exploitation movies, I had started seeing how many of these I could get from Netflix or streaming services. (Answer: very few.) However, I did disover a listing for an odd 70's genre movie called Chosen Survivors.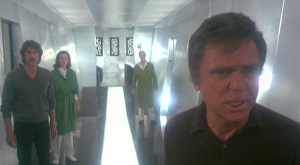 Ten people, selected by computer, are nabbed by the government and shoved into a shelter 1700 feet underground to survive the global thermonuclear war and restated humanity afterward. Sadly due to an oversight, the caverns that were selected as the receptacle for the shelter is infested with hungry, aggressive, vampire bats. Trapped, the survivors must find a way to contend with the threat.
Now, this looked to be bad. I had never heard of this movie, and I was under no illusions when I had Netflix ship it to me. Sometimes bad movies are their own entertainment.
What did surprise me was the amount of talent in the film. Jackie Cooper, Bradford Dillman, Richard Jaeckel, Diana Muldaur, Barbara Babcock, (that's two from Start Trek' TOS) combined with the others for a total count of more than 700 acting credits according to IMDB.
In theory the people were picked for their essential skills and breedability , but the selection clearly makes a hash of that straight away. A wall Street financial guy? (Cooper) a Congresswoman (Muldaur) a novelist? No one would make-up their post-apocalypse survival team from such characters.
So they get nabbed (off screen to save budget) drugged (to save them from the shock and horror of the world's ending), shoved into an elevator and dropped 1700 feet into a gleaming stainless steel complex. Almost at once the threat appears when the bats manage a bit of birdy-horror by killing all the parakeets in a cage. (It is never explained how the bats got into or out of the birds' cage.)
Five men and five women they natural pair off into couples except for a few. They squabble and yell exposition at each other, fight over who's in charge, with Cooper's character insisting the thing stink of a set up. They make poor choices in dealing with the bat threat and things get worse.
Cooper's character shows tremendous constitution by finishing off a battle of hard liquor, going around in a drunken rant yelling and insulting everyone, before ending up in Barbara Babcock's room because he wants to 'talk' to her. Yes, you can see where this is going. He attacks her, she can't fight him off, and in that strange view found only in really bad writing, goes from fighting the rape to participating. This is horrid enough writing, but it's compounded by the rest of the movie where it has absolutely no effect upon the plot what so ever. You could literally snip out the scene and the film will be unchanged. No one line of dialog would sound out place. It is a small grace that it is shot without nudity and not in a titillating manner.
Sobering up, Cooper's character then proceeds to destroy the 'alarm' that they have rigged to warn about bats, and open up a nice wide passage letting in lots and lots of the flying blood-suckers.
This is too much for Bradford Dillman's character, whose confesses that he works for the government and that there has been no thermonuclear war, that this was a proof of concept experiment for the shelter program. (Can't wait for the congresscritter to get back to her job after that.) He tried and fails to signal for an emergency extraction, leaving it to the athlete to climb the 1700 foot elevator shaft and signal for help.
He makes the climbs but the bats kill him after he completes his mission, the bats get into the shelter a couple more die, and then the air force shows up and rescues everyone.
Personally I had hoped that the end of the movie would be that during the week that they were trapped the war had broken out, but no, the final scenes are the character being flown away by the Air Force.
Stupid movie is stupid.