Last night I turned to psychological horror with 1941s The Body Snatcher, the first film directed by Robert Wise. This is not to confused the 1956 SF/Horror film Invasion of the Body Snatchers, a classic that has been remade too many time. This movie is based on a short story by Robert Louis Stevenson and it features Boris Karloff giving in my opinion his best screen performance.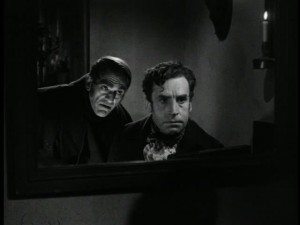 Set in Edinburgh 1831, just before the Anatomy Acts stopped the scourge of grave-robbing to feed the needs of medical school, the story is about an idealistic you g medical student, Donald Fettes as he learns about the dark secrets of his mentor Doctor MacFarland and the mysterious, dangerous cab-man John Gray that supplies the school with corpses for its anatomy courses. The horror here lies in the evil that people do for their petty and selfish motives. Gray is propelled by more than mere money but rather a sense of humiliation and a thirst for dominance drives his evil and cruel actions. MacFarland is trapped by his own cowardice and in the end becomes as evil as Gray in his own futile search for freedom from a stained and scandalous history with the cab-man. There is a charming and optimistic sub-plot involving a young girl who was confined by a carriage accident to a wheel chair illuminating that not everything associated with brutal medical schools of the time is doomed to failure.
Clocking in at just an hour and eighteen minutes The Body Snatcher illustrates that a film can be packed with character, story, and theme without suffering from a bloated running time. Karloff as Gray gives a charming and evil performance as a man who can smile sweetly just as he murders you. He gives the character a real sense of life and depth. Gray is monstrous but he is not a monster; he is far too human for such simplistic explanations.
I bought this film about twenty years ago at a shop where I paid something like $8 for a used laserdisc. Having never seen the movie it was a gamble but one that paid off by giving me one of favorite films. It is available on DVD as a double feature with I Walked with a Zombie, another Val Lewton production, these films are part of RKO's attempt at horror which produced the original Cat People, but I cannot recommend I walked with a Zombie thought it is a small price to pay to own such an film as The Body Snatcher.