So, Friday night I offered a friend of my a choice in which movie I'd load up into the blu-ray player; 2016's Ghostbusters or a thriller/Horror Film Don't Breathe. he selected the thriller
We regretted it.
The set-up is simple and right from it's premise Don't Breathe is a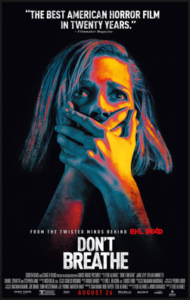 deeply flawed project. Three cardboard cut-put teenage characters engage in burglary for their chase. Money is he punk-kid character, without any redeeming qualities, Rocky is the girl trapped in a bad life searching for a way out, and Alex is the 'decent' kid doing this because he has a deep crush on Rocky. Alex uses his access to his father information at a security service to locate their targets. Nothing about these characters is unique or compelling, and more importantly nothing about them is engaging enough to overcome the fact they break into people's house and rob them. They are thieves. If your characters are going to be thieves, they had better be interesting.
Things get going when they up their game from burglary to home invasion. The trio are tipped about an old blind man who scored a big settlement after a young woman killed his daughter in an auto accident. For reasons never explained – because they don't exist – our trio knows that the blind old man keeps his big settlement in cash in his home and not in a bank or T-notes, or anything else that would actually make sense. Luckily for them the old man also is a subscriber to the right home security service so Alex isn't utterly useless.
The three go and break in, displaying a level of smarts and idiocy that can only be plot driven, and get trapped in the house. The Old Man is blind but not helpless and it becomes a fight for their lives. In an effort to make the three more sympathetic the Old Man is revealed to have some pretty nasty secrets but that just transforms the plot into bad people doing bad things to other bad people.
Nothing about this movie is original or interesting. The plot details pile upon each other, breaking all sense of believability.
Truly we would have been better off with Ghostbusters 2016.