While this is billed as my Sunday Night Movie, I started it Sunday evening but finished it Monday. After the energy expended at Condor 2017 I simply pooped out and couldn't watch it all in one go, particularly since it is subtitled and required a greater mental focus.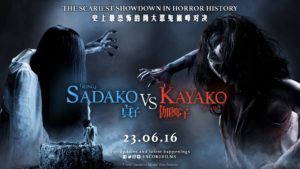 I first learn of this film last year when a friend and I drove up to Los Angeles for an after evening at Universal Studios, taking in their Halloween Horror Night, and then scooting over to Hollywood for a late screening of 1979s Dawn of the Dead in 3D. (Verily that was cool.) While my companion took care of his pre-show bathroom break and concessions the trailer for this film played.
If you do not recognize the names these are the ghosts or spirits from The Ring franchise (Sadako) and The Grudge (Ju-On) (Kayako). So as you can see it is not just American that is interested in bad guys fights such as Freddy vs Jason.
Overall this was better than the aforementioned Freddy vs Jason. The cast is comprised of fairly likeable and relatable characters competently acted. The film's action is contemporarily set and so they had to dance around a few issues since Sadako does her bad magic via a VHS tape. Also for the sake of compression, I assume, they reduced her kill curse from seven days to two.
(If you don't recall The Ring or Ringu the Japanese original version, if you watch the tape then your phone rings and a voice tells you 'seven days' and when that time has passed you die. Ju-On was centered on a house where a spirit of vengeance visited violence and death on all who lived there, for this film that has been compressed to simply entering the haunted home.)
The production values are decent and there are plenty of both in your face jump scares and atmospheric scenes that rely on tension for their effect. I was particularly fascinated by an exorcism scene. It was quite interesting watching one that was non-western and not driven my a monotheistic religion.
Of course the main event for a film of this type is the throw down between the two powerful spirits. (Though at one point both are referred to as 'ghouls' and I wonder what the original language translated as.) On that score the big confrontation is rather spare and short but better that than overly drawn out and tiresome.
In terms of tone it borrows more from Ringu than Ju-On. It has a conventional western narrative structure rather than the sequence of incidents that Ju-On utilized. In the final resolution it leaned more in the direct of Ju-On.
I enjoyed my viewing but not enough to see a need to purchase a copy.
Sadako vs Kayako is currently streaming on Shudder.