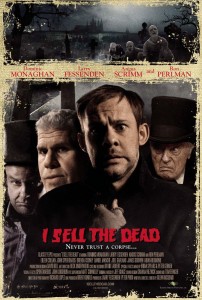 So this week's movie was a bit of a gamble for me as it was something I had never seen and further more was something I had heard little about.
I started the Sunday Night Movie habit as a way of utilizing my movie collection. I had realized one day that I rarely watched so many movies in my collection and when I did I tended to watch the same ones over and over. I started Sunday Night Movie as a regular event to enjoy those movies that I love but so rarely watched.
This is not one of those movies.
I Sell The Dead is a story about two men in the resurrection business in what I presume is the 17th or 18th century. Arthur Blake (Dominic Monaghan) is partner and former apprentice to Willie Grimes in the resurrection business. That is they steal corpses and sell them to doctors. Their lives take a dramatic turn down a path of bump in the night events when they discover that digging up some corpses leads to a much more active product than the pair is accustomed to finding.  They have a number of serious threats in their wretched lives, There Dr. Quint (Angus Scrimm, Best know as the Tall Man in Phantasm.) who is extorting their services without compensation by threats of the law. Then there's the House Of Murphy a rival gang of resurrectionists with a tendency for murder and mayhem, and of course there's the very active undead who are always ungrateful for being dug up or unboxed.
This movie is supposed to be a comedy and as such one is expected to give it more leeway that a traditional horror film or dramatic feature for suspension of disbelief, however this film had too many flaws for me to do that. There are endless anachronisms, historical errors, and a general failure to understand just what it was that resurrection men did. (They did not sell bodies to doctors for their general practice, they sold them to schools and teaching doctors for study, instruction, and research.) In the end this movie was simply too much of a mess with too little plot and too much gag to work as a film.
I recommend pass if someone offers a viewing to you.