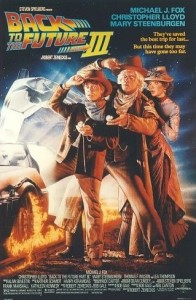 After last weekend's Sunday Night Movie it seemed only right to select the final film in the trilogy as the weekend's movie.
Back To The Future III completed the story arc started with Back To The Future II. Marty McFly (Michael J. Fox), when the time machine is struck by lightening it stranding Marty in 1955 and Doc Brown in 1885 the old west, seeks out Doc Brown — of 1955 — (Christopher Lloyd) to get home. Upon learning that Doc Brown was murdered in the  Old West, Marty travels back into time in the new repaired time machine to save his old friend . Their plans for a quick return home are complicated by Biff Tannen's murderous ancestor Mad Dog Tannen. (Thomas F. Wilson) and Doc's growing feeling for the new school Marm of Hill valley, Clara Clayton (Mary Steenburgen.) There are plenty of stunts and action and even middle-aged romance in this film and in fact I think it plays better than the second film of the trilogy does.
Again the time travels story is simplified by the malfunction of the time machine upon arrival. This is the most classic method for maintaing drama in a time travel story. Even the progenitor time travel story, The Time Machine, by H.G. Wells, strands the time traveler by having his machine stolen shortly after his arrival.
I have not seen this film since its original theatrical showing and I was unsure how well the film would stand up over time in my mind and emotions. It did so pretty well. I had forgotten a few details but I remembered the arc of the film well enough. The cast was good and it was nice seeing Christopher Lloyd getting a chance to stretch his own acting and dramatic muscles.