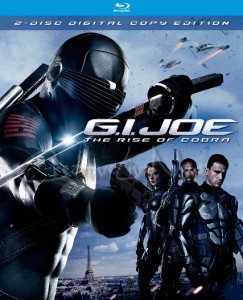 Part of my Thanksgiving Day was watching the G.I. Joe: The Rise Of Cobra blu-ray with the audio commentary turned on. I have now gone through all the features of the blu-ray and so here are my quick impressions.
The film transfer is a good one. The image and sound seem very much like the theater experience. The film works a little less well on the small screen than it did on the big screen, but not so much so that it felt flawed. This sort of over-the-top action cartonny movie really succeeds best when you can be totally immersed in the visuals and the sounds to carry you past the impossible action.
The special feature on the blu-ray felt sparse to me. There are two documentaries on this disc, each under 30 min in length. One generalized feature and one on the visual effects. Really I expect more from my blu-rays and wish that they had thought a little more on the special features.
The audio commentary was interesting and informative. The two biggest surprises to me from the commentary track were about the kid-ninjas. (Stormshadow and  Snake Eyes  as children) Turns out the fight scene really was done by two twelve-year old boys. Both were champions in martial arts. It really is an impressive fight sequence.
The second was that the film maker really did think about the 'falling ice' problems in the third act. It seems that their justification for the sequence is that there is so much infrastructure built into the ice that when it is separated from the main ice pack it's now too heavy to float. Okay — I could buy that, but it needed a little more explanation in the film itself.