Oh the movies and their zombies. From way back in the pre-code era with Bela Lugosi starring in White Zombie and transformed forever by George A Romero with Night of the Living Dead, the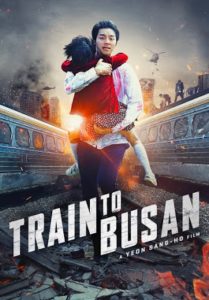 zombie has been a favorite for films. In more recent decades the sub-genre has exploded internationally and now available for rent and purchase via iTunes and other portals from South Korea comes Train to Buson.
I was quite lucky and in that I did not watch this on my home television but rather I got to see it in the 46 seat micro-theater Digital Gym here in San Diego and if you get the chance to see this properly in a theater you should leap at it. (If you are in San Diego it plays through Thursday January 13th.)
The story is about a father, Soek Woo (Played by Yoo Gong) and estranged ten year old daughter Su-an. (I am guessing at her age as I don't remember if that specified it in the film even though it opens on her birthday.) He is the typical hard working corporate ladder climbing parent who has let the career displace family and Su-an desperately want nothing more for her birthday than to take the train to Busan and see her mother, who is also estranged the father. The zombie outbreak erupts and their journey becomes one of survival.
For long time zombie fans, these are more akin to 28 Days Later, fast moving and fast transformation that Romero's slow implacable marchers.
This film is no low budget knock-off affair. The actors, from the leads down to the smallest supports, were selected with care and fit perfectly into their parts. The director makes excellent use of the tight and closed confines of the setting to created a situation of terror, dread, and claustrophobia. The writers manages the often difficult task of upping the stake continually without either becoming predictable or shattering disbelief by racing too far too quickly. The film is bright and full of colors but retains an essential darkness born of the dread and danger while never slipping into cynicism.
Aside from a few fairly minor editorial quibbles, like submarine films I think this would have greatly benefited from no shots outside the train and never allowing the viewers a moment of relief from the claustrophobia, this movie works beautifully. It was horrific, exciting, engaging, and by the end deeply touching, go see it if you can, rent if you must.