If I were cleverer I would have worked it out so that this movie popped up as number 13, but that did not happen.
Dementia 13 is the fires mainstream feature film from acclaimed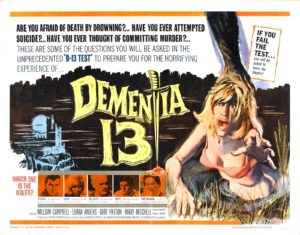 director Francis Ford Coppola. It is a low budget horror/thriller intended to ride the coattails of the better-known movie Psycho.
The story concerns an Irish family that is haunted by the tragic and mysterious death of the youngest child, Kathleen. On an anniversary of her drowning, when the family hold yearly funerals for her, a scheming American woman Louise, recently married into the family, plots to manipulate the matriarch into changing her will. Louise's plot is upended when people start dying at the hands of unidentified axe murderer.
Made for Roger Corman, Coppola was never fully satisfied with the final product and it even eventually fell into the public domain. If you buy one of 50 Horror, or Thriller, or Mystery DVD set you likely will acquire a copy of Dementia 13. Of course that will be an nth generation copy off some poor quality 16 mm print. Surprisingly someone splurged for a 4k restoration and that was what was screened at the Museum of Photographic Arts last night. My sweetie-wife and I attended, thought traffic nearly made us miss the movie. I can't recommend this movie, it's very uneven and convoluted but I do not seeing it in a theater instead of a poor quality dup.