Last night's movie served a dual purpose, it functioned both as entertainment and as research. Entertainment because The Caine Mutiny has always been one of my favorite films. I dare say that I watch my Blu-ray of it more often than I do ether Casablanca or The Maltese Falcon. Research because my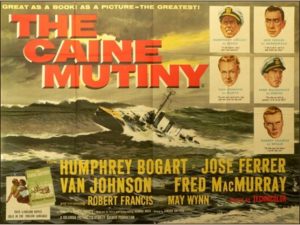 current work in progress is on one level about a dysfunctional wardroom and how that undermines the ship's commanding officer. Now the specifics are very different in my WIP than in the classic movie. My WIP is not about a duplicitous officer and hopefully my captain is more relatable and heroic than the poor broken Queeg.
The Caine Mutiny is one of those rare film that I find difficult to watch only a portion. Many movie I can start and stop, or back in the days of channel surfing, watch a brief bit in the middle before moving on, but that has never been the case with this movie. When I had a lasrdisc player it was one of my first purchases, and when I moved to DVDs I acquired a copy in that format as well. For several years I've had my Blu-ray version and the film has never looked better. (Though I have yet to see a properly projected version in an actual theater.)
Based on the fantastic novel, The Caine Mutiny is the story of the officers if the DMS Caine. (Destroyer Mine Sweeper) It is World War II and Willis Seward Keith an immature offspring of a rich family has become a newly commissioned ensign in the U.S. Navy. Assigned to the Caine, a duty station he views as a bitter disappointment, Willie discovers that the junkyard navy falls far below his expectations. Too young and too inexperienced to understand the nature of the Caine, Willie rejoices when the captain is replaced with hard-nosed, by-the-book, Captain Phillip Francis Queeg.
A change of command turns out to be the spark that lights a fire culminating in the ship nearly sinking and Willie along with another officer finding himself standing before a court-martial on charges of mutiny.
Truly one of the best films to come out of classic Hollywood, The Caine Mutiny not only is faithful for the original work, but where is seriously diverges from the text of the book serves the different medium without undercutting the themes and point of the source material.
If you have not seen this film, waste no time in finding a copy, it will be well worth your effort.