As I mentioned in yesterday's post, this past weekend presented me with more writing work than I normally engage in during this blissful days away from the day-job. When I finished editing a potential piece for submission to Viable Paradise I rewarded myself with a movie, The Babadook.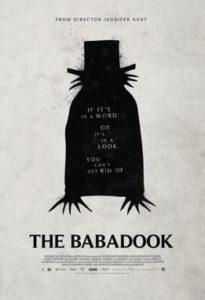 Hailing from down-under this 2014 horror film is about a widowed mother and her young son, still scarred by the traumatic death of their husband and father, being tormented by a malicious spirit.
Horror often works via isolation. In lesser quality stories and films that isolation is achieved by the creators via hard barriers to prevent the characters from escaping the threat. The car has broken down in the middle of nowhere, the bridge has washed out, the ghost can fill the doors and windows with red bricks at will, there are no bars on your cell phone, so on and so on. With better-crafted material the isolation is psychological, for example in the novel and film The Exorcist in addition to the fact that the demon is within the child, the fact that no one outside of that home could possibly accept the reality of its events isolates the characters. The Babadook successfully employs the psychological isolation.
In terms of visual style the film reminded me of both David Lynch and the American version of The Ring. The images are not straightforward literal monsters, but more subjective and impressionistic interpretations. Much of the dread, unease, and horror is created by the stylistic and unusual visuals.
The movie did not work 100 percent for me however. I had a difficult time get engaged with the material at the start because the emotionally troubled young son was very difficult to bear. This is by design as we are meant to emotionally connect with the mother who is struggling to manage with a son who has serious emotional issues while having not yet processed her own grief. Once I managed to get past the establishing acts of the story I did find myself more engaged and invested in the outcome.
It is interesting that one valid interpretation of the film is that, like with The Haunting, there is no spirit and that the mother is suffering from a mental breakdown. While Shirley Jackson has made it clear that Hill House is haunted and evil, I have no knowledge about the intent for The Babadook so it is up to you if the evil spirit has a reality or if it's a tale of madness. While this film had a difficult opening for me, holding me at a distance, in the end I am glad I watched it. Creepy, atmospheric, and ultimately about the power of grief The Babadook is a worthy film in the horror genre.