I did not get any fiction writing completed last night. While I have finally gotten over my flu, and this year's number is quite a little beast, early in the evening the migraine gnomes arrived with his less than anticipated gifts. Instead, after taking the required medications, I settled into to complete a documentary series that I had started while still recovering from my flu; Five Came Back.
A Netflix original and based on the book of the same name this series, three episode each just over an hour in length, examines the lives of five legendary and award winning directors before during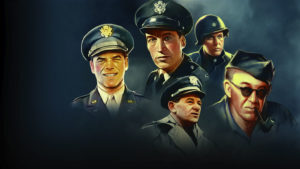 and after their service in World War II. Each man served as a filmmaker and as with everyone else who saw service in that global and terrible conflict each was changed by their experience. The Five were John Houston, John Ford, William Wyler, George Stevens, and Frank Capra.
The films produced by these men range from instructional movies and cartoon, including the classic Private SNAFU which featured the earlier work of Ted Geisel better known as Dr. Seuss, through blatant propaganda, and touching revelations about the ravages of psychic wounds.
A movie I commented on here a few months ago, Know Your Enemy: Japan a racist piece of propaganda, I can happily report was never actually screen to our troops. It only made it to the front just three days after the surrender and MacArthur banned its presentation.
If you have an interest in film, history, and the Venn diagram where these two fascinating fields overlap I cannot this series enough.