Last night I was in the mood for something from yesteryear. Now some time ago Universal put out boxed set for their classic monsters until the branding of 'Legacy Collections.' I have many of the set including the one for Frankenstein. The Legacy Collections include the original film for each series, some decent bonus material about the classic horror film, and several of the sequels or associated films.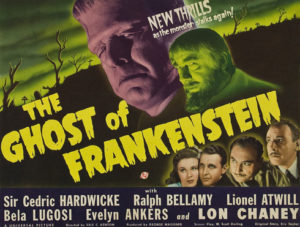 Ghost of Frankenstein is the fourth film is the series and it continues the story from the previous entry, Son of Frankenstein. Ghost is used metaphorically as the Frankenstein of this film is the second son of the original mad scientist but titling a movie Second Son of Frankenstein seems underwhelming.
The population of the village of Frankenstein, convinced that the area is under a curse dues the action of Henry and his son Wolf Frankenstein dynamite the standing castle where in the previous story the monster had fallen into bubbling sulfur pits. The explosions free the monster and aided my Ygor, who has somehow survived the hail of bullets from the last movie, escapes fleeing the town. Ygor takes the monster to Ludwig Frankenstein, Henry's second son, in hopes that the creation might be healed and returned to full ability, allowing Ygor to manipulate it to continue his own evil schemes.
The creature kills of the Ludwig's associates and this after much turmoil with the local populace, prompts Ludwig to plan to transfer the brain of his dead associated to the monster's body as a way of undoing the crime and transforming the monster into a non-dangerous creation. Ygor, working on the ego of Ludwig's disgraced mentor gets his brain placed into the monster without Ludwig's knowledge. These villagers arrive, torches are barred, great manor houses are burned, and Ygor in the monster's body goes blind because the great mentor hadn't considered blood type mismatch.
Over all this is pretty standard fare for a Universal monster sequel. It pays fair attention to continuity but hand-waves is way past anything that would actually kill the story, such as Ygor's ability to survive the gunshot wounds without medical care. Dr. Frankenstein once again pays the price for meddling in things that 'man was not to know.' (Hmm we should really have a Lord of the Rings moment in some film like this where the female mad scientist proclaims she is no man.) In terms of the Universal classic monster cycle, which was the first cinematic universe, this is purely a middle-grade entry. The movie did not descend in unintentional farce as with Son of Dracula casting Lon Chaney jr as the Count,, but neither did the film come close to matching the atmospheric heights of Frankenstein.
As this film was from 1942 I did ponder a sequel in which Nazi's took the castle and ended up dealing with mad scientists and the classic monster. Ah movies that were never even considered.