Yeah, this has been an entry in the Sunday Night Movie feature before but it is one of my favorite disaster movies.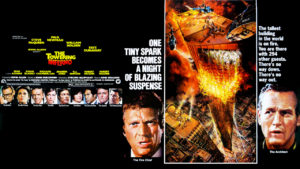 It is not a secret that I am a fan of the disaster movie genre that blossomed in the 1970s and in many ways The Towering Inferno is the pinnacle of that style of movie. It has a massive budget, being the first film that required two studios, Twentieth Century Fox and Warner Brothers, for its production The movie boasts an impressive slate of stars, another hallmark of the disaster movies, and this one included two of the biggest at the time Paul Newman and Steve McQueen along with a host of fine stars and actors in support. Special effects and spectacle are also presented in abundance throughout the feature. It is important to remember that was before the era of digital images and motion control photography, three years before the ground-shattering event that is Star Wars. Every flame in the frame is real, every full-body burn is a live stunt performer, and the tower itself is an impressive bit of model photography.
The plot of The Towering Inferno is quite simple and straightforward. It is the dedication night of the newest world's tallest building. Situated in San Francisco the building dominates the skyline as it reaches for the stars. Due to cut corners one of the buildings contractors has substituted inferior wiring in place of those specified by the architect, leading to a short, numerous system failures, and of course a fire that quickly gets out of control. There is a massive party being held at the towers top and now more than 300 people are in danger of burning alive in the world tallest building.
What surprises me each time I re-watch this movie is how devoid of cynicism it is, particularly for a mid 70s film. There are two political characters, the mayor of San Francisco and a Senator. Both of these characters act in noble and heroic fashions, presenting none of self-centered cowardice we would expect in a current screenplay. They are not the exception, firemen and chiefs, security guards and corporate executives, architects and con-men all act as heroes, putting themselves in danger for the sake of their fellow human beings. The only exception to this is the contract who cut corners, Played by Richard Chamberlin this character displays absolutely no redeeming qualities. It is an utter mystery how his wife, daughter of the builder, ever fell in love with such a low character. He is nothing more than a walking cliché, one that would today pass as wisdom.
This film is long, two hours and forty-four minutes, and mind you this is before the end credits bloated. For The Towering Inferno end credits run just over 4 minutes. It took me two nights to watch the entire film and I don't regret a single moment.