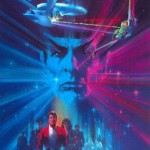 It is a well know dictum in the SF community that the 'good' Star Trek films are all the even numbered ones and that the odd numbered movies are 'bad.' I have advised people to remember that what the even numbered, II, IV, and VI, have in common is Nicholas Meyer. He had a hand in writing all three and directed two of them.
I myself have espoused this Even/Odd dictum to people about how to judge Star Trek movies. (Counting all the Next Generation films as 'odd.' The first, a weak and bull film was the best of the lot. They proceeded to become more and more idiotic as the series progressed becoming what can oxymoronically called Luddite Science-Fiction.)
Recently Star Treks, II, III, and IV were released a a single blu-ray set with new bonus features. I resisted as best I could, but when I found a set for about $25 I broke down and purchased it even thought it had a 'bad' movie in the collection. I spent part of the weekend watching the bonus material and oohing and awing how gorgeous the films look in the Blu-ray format. Last night I decided that I would make Star Trek III: The Search For Spock my Sunday Night Movie.
Continue reading Sunday Night Movie: Star Trek III: The Search For Spock →