When I got my boxed set of film noir DVDs one of the pleasant surprises was discovering that one of the films had been directed by Robert Wise. Wise came up through the old school Hollywood. he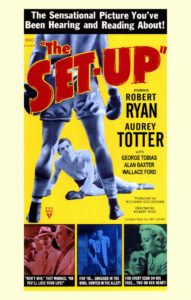 was the editor on Wells' Citizen Kane, became a director with the fantastic Val Lewton horror movie The Body Snatcher, and had a career that spanned just about every genre of movie. The Set-Up was the last picture he made while under contract for RKO and it is a bleak, tragic, and fantastic bit of gritty filmmaking.
The movie's premise is simple; Stoker is a down and out boxer, thirty-five year olds his career, such as it is, is drawing to an end. His wife Julie wants him to give up boxing, the injuries and chance of serious harm or death have become too much for her but Stoker knows he's just 'one punch' away from turning everything around. Unable to take it anymore she bails on attending his evening's fight, a lousy bottom bill in a terrible dive. Stoker's manager, Tiny, meanwhile is taking bribes from to local crime boss to make sure stoker goes down in the fight. Tiny doesn't tell Stoker of the fix because there's no need; Stoker always loses. Why share the bribe money?
What makes this movie work is the focus on characters. Not just the leading characters like Stoker, Julie, and Tiny, but the bit supporting characters bring this film to life and do so with a strong sense of theme. When the bout is going on Wise doesn't focus all of his screen-time on the boxers, but with judicious cuts he plants us among the spectators and their bloodlust. In addition to a taunt story of a man whose dream is slipping away The Set-Up is also a sharp commentary on blood-sports without being a 'message movie.'
The DVD has just one bonus feature but it's a great one. The film's commentary track is split between director Robert Wise and Martin Scorsese.
I have never been a particular fan of sporting movies but The Set-Up moved me, wringing out powerful emotions with it's gut punch of an ending.