This posting is a few days late but I am still shaking off the effect of this year's flu, which for many is particularly rough.
New Year's Eve a local movie appreciation society Film Geeks San Diego hosted an invitation only screening of an undisclosed title. Getting an invitation was easy, all I needed to do was respond to the posting. I arrived at the Digital Gym, a fine micro-theater and school, gave the supplied password, and I was in. This sounds much more cloak and dagger than it was, but the air of what unknown film my friends Miguel and Beth had selected supplied a lot of fun. After three cartoons the title was announced to the twenty people invited to the private screening: Liquid Sky. I had heard of this film but had never seen it and that was perfectly fine by me. I love cinematic experimentation. We stopped the film just before midnight to ring in the New Year and then continued with the screening.
Liquid Sky is a movie about the lives of a small collection of aspiring models, actors, and fashion people living lives of hedonism,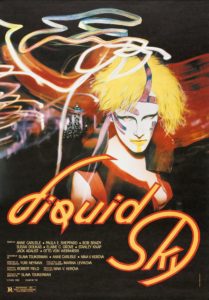 experimental music, and drugs an alien spacecraft lands in the milieu, manned by tiny unseen creatures that have come in search of opioids. A scientist from West Berlin follows the aliens into the neighborhood, studying the extraterrestrials and hoping to warn the residents of the dangers that are in. It would seem that the aliens have switched their habits from heroin to opioid like chemicals produced in the human brain. What unfolds is a story of sex, manipulation, assault, and eventually murder as the visitors harvest their 'crop.'
Though it is a product of the early eighties Liquid Sky, in part due to is highly unusual and stylized make and androgynous characters possesses a strong Ziggy Stardust sensibility. Made on a small budget the film is devoid of the special effects so common to 1982 and for a story with as much sex and sexuality as it had is even restrained in it in on screen depictions. (Though be warned that there is an on screen rape scene presented, as it should be free of titillation.) Liquid Sky gained a cult following and lately there has been talk of a sequel.
Following the feature there were more material presented but I could feel my energies flagging and made the short drive home, all in all not a bad way to start off 2018. I know many people are hoping that 2018 will be a better year than 2017 to which I say, do not hope, make it a better year, the choices are up to us.