Based upon a novel first published in 1934 this week saw the release of another film version Murder on the Orient Express by Agatha Christie. Assembling an all-star cast, just had been done in 1974's version, Kenneth Branagh stars in directs in this murder mystery.
Branagh plays world famous detective Hercule Poirot. In this adaptation Poirot is portrayed as a man who suffers from OCD before that condition had been recognized much less named, Recalled to London on an emergency he manages to get passage on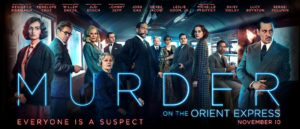 a the Orient Express though all the cabins had been reserved. During the trip from Asia Minor, while traveling through the mountains of Eastern Europe the train becomes stranded and a passenger is murdered. Passionate for justice and suspecting that the local authorities would likely convict and execute the wrong person, Poirot endeavors to solve the locked room mystery before the train is freed from the snow.
Though the plot is more than 80 years old I will not spoil the mystery on the off chance someone reading this is unaware of the rather unusual nature. I will say that it stays, generally, faithful to the source material, as I understand it, including Christie's horrible habit of withholding clues, yielding a mystery unsolvable by readers and audiences. As an additional demerit the mystery's resolution is silliness and utterly impractical.
That said, this is a movie worth seeing, and worth seeing in a proper theater. The film is lush, vibrant, and lovely. While not all the CGI train shots work perfectly more than enough do so to transport the viewer to another time and another place. However what really makes this watchable are the performances. This movie is really a series of scenes in a confined space, so it is not abut action, stunts, or thrilling sequences, but about characters interacting and the cast is superb.
If you have the slightest interest in the film and in watching some great actors go at each other, see this.