No, that is not yet another remake, revision, or remix of the movie that created the modern zombie genre, but rather the 4K restoration of that original.
Before he passed away George Romero worked with the Museum of Modern Art, and with funding from the George Lucas Family Foundation, to restore from original elements that film that so many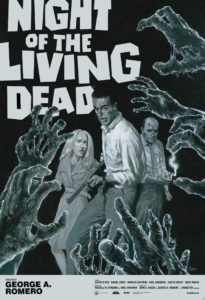 years ago made his career. Though not announced it is expected that there will be a 4K and Blu-ray release of this restoration from Criteria and that is something I am looking forward to.
The restoration screened last night at San Diego's restored movie palace The Balboa Theater. When I first arrived in San Diego in 1981 it was part of a series of grindhouse theaters showing films 24 hours a day 7 days a week. Now, returned to it luster and glory it is an upscale venue for live performances and film.
Before the movie we were treated to a live organ concert with an impressive device that filled the theater with full rich sound without the aid of any amplifiers or any electronic circuit. Being Halloween there was brief costume contest. (My personal favorite was a pair of women doing a fantastic job the creepy twin girls from The Shinning.) Then, after a few technical glitches, we watched The Night of the Living Dead.
What can I say about this movie that has not already been said a thousands times before me? It is, though that word is never uttered in the film, the progenitor of the modern zombie genre. It is a film with a black lead made in 1968 that never once mentions race and yet the subtext of the race relations infuse every scene with that character. It is a film from the sixties with a very seventies sensibility, making this movie ahead of its time in more than one respect.
Watching it on the big screen, something I have never had the chance to do, and in a restored version, proved to be quite surprising. This is a movie with many technical faults, stilted acting by some of the cast, and clumsy dialog and yet sitting there I never once felt bored and ready to leave. It was very nearly as if I had never actually watched the movie before. (It was also clear a number of people in the audience were fresh to the film, supplying reactions and screams that would have thrilled Romero's heart.)
It is a shame that it played only one night. Many of my friends planned to be busy on Halloween with 'better' activities and they missed treat.
So ends my horror film reviews for this Halloween. I do hope you enjoyed them.