Last night I went the Fathom Event Anniversary screening of Star Trek II: The Wrath of Khan. I remember standing in line on a hot summer day on San Diego 35 years ago waiting to see this movie. It did not disappoint then and it did not disappoint last night. There are few SF/Fantasy films that hold up well over a single decade much less three.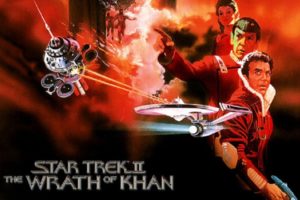 Last night's presentation was the Director's Cut, presenting a few expanded scenes and a couple of alternative takes, but essential the movie, like the song, remained the same.
I am not going to recap or review the film. By now you have seen it, known about, or just don't care.
I was surprised by how much the film moved me. Mind you not only have I seen this multiple times before, but I own this edition on home video. This is one of my very favorite films, a movie that has very very few flaws, and one I often watch to raise my spirits. I went last night because it had been more than 20 years since I last watched it on the big screen and never this particular edition, I expected to enjoy it, but not get emotionally invested all over again, yet that is exactly what happened.
The battle in the nebula still excited me, set my heart racing and quickened by breath, I still wanted to scream at Kirk as he walked into the trap upon the Enterprise's first encounter with Reliant, and Spock's sacrifice continued to be a gut-punch. This is the power of art, to move you, to reach in and grab you by the feels even when it is well know and familiar territory. This is why re listen to albums over and over, buy television program on home video, and re-read books. It is humbling and astounding.