This weekend is the 8th annual Horrible Imaginings Film Festival. Last year was the first year I had the ability to attend and I had a blast. The quality of the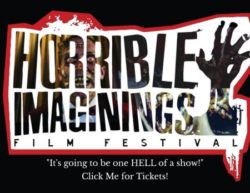 films was quite impressive. The festival is made up of mainly short subjects, with each evening having one or two feature length films to round out the day. The films are presented in themed blocks, such as monsters and things that go bump in the night, or killers and other human horrors.
This year I will not only be attending the full festival but I will also be participating on a panel discussion about horror literature and the coming century. That will be on Saturday afternoon.
If you are in the area and have an interest in horror, you should make time to attend the festival. This year there will be a spotlight on local film talent and that should be interesting.