From Luc Besson, Director of such varied films as Leon: The Professional and The Fifth Element comes a movie that was reportedly one of his personal passion projects Valerian and The City of a Thousand Planets. Adapted from a long-running French comic Valerian is an expansive space opera set in a universe with a vast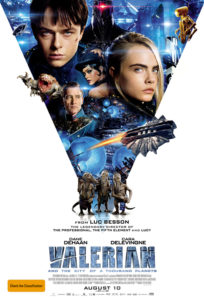 number of alien species fantastic technology and a complete lack of any sort of engaging characters. The title character Valerian is an officer for the Federation of Human Worlds. Along with his partner, Sgt. Laureline he is effective a galactic cop, chasing down bad guys and enforcing the law. His character is supposed to be a 'bad boy' the sort of rogue that women can't resist and who infuriates his superiors. We know this because he tells us so in one of the movies many 'as you know, Bob' moments of infodumping.
I am avoiding describing the plot not because of spoilers, though that is always a consideration in my reviews, but because at its heart the plot is a mess of clichés and overly-predictable plot twists; Valerian is a plot driven story with a terribly plot doing the driving. Where a plot driven movie like Dunkirk establishes in the very first scene what the plot is, (surrounded by the enemy and needing to escape), Valerian tries to make their a mystery and only end up making a mess. The characters bounce chaotically from one situation to another bumbling their way through with the very nature of their personalities changing in a futile attempt to create drama. Obstacles in this story are overcome by either a James Bond-like reliance on gadgets that unlike a Bond film are not established before the save the day, convenient friendly aliens with supplying exactly the skill sets needed at the time they are needed, or by daring and do that takes place in front a green screen. (Digital stunts are the most boring of all 'action.')
In addition to and numerous writing failures present in the film the lead actors, who are barely adequate for their jobs (And I may be overly generous there), share no chemistry on screen, either as partners or lovers.
I was utterly bored watching this film, checking my watch often to compare the 'progress' of then plot against the running time, and when the exposition heavy ending finally arrived I was relieved.
This is a movie I cannot recommend.