This morning I finally found the time to drive into Hillcrest to one of our local Landmark theaters and catch the Anne Hathaway Kaiju flick Colossal. Now those are words you really should not have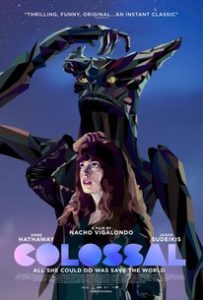 expected to go together. In addition to being a giant monster movie, Colossal is also a comedy and a dramatic take on addiction and poisonous relationships.
Very fitting for this film the word Kaiju is actually Japanese for 'strange beast' and the story is a wonderfully weird and strange beast.
Ann Hathaway plays Gloria, a woman whose life due to alcoholism is spinning out of control. She loses her home, her relationship, and has lost job. Without resources or money she returns to her childhood home where she reconnects with a childhood friend Oscar played by Jason Sudeikis and continues her self-destructive drinking and behavior.. Things take a strange turn when an enormous monster appears in Soul South Korea. Gloria possesses an unexplained connection to the monster, one that in the end brings to a head all her unresolved issues.
Written and Directed by Nacho Vigalondo Colossal is an example of something I mentioned in an earlier essay, a movie with a message that is not a message movie. Vigalondo, like Joss Whedon, understand that comedy is best frontloaded, but one serious stakes are raised, the light-hearted approach gives way to drama, character, and real consequences.
I thoroughly enjoyed watching this film, it has very nicely written characters that are well realized by the cast. Anne Hathaway and Jason Sudeikis are terrific, particularly Sudeikis who manages a twist that feel organic without creating a sense of falsehood. The story moves along at a good pace but without sacrificing the essential moments that develop and reveal character. The resolution is organic and emotionally satisfying. Colossal has gotten a limited 'art house' release so it may not be showing in your area but if you can see it do so.