It has taken me a little longer to see this film than I had planned. There's nothing about this film that I did not like and that did not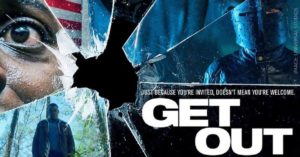 work. Get Out is Jordan Peele's freshman outing as a feature film director but you would not know that from the quality of the product.
Horror movies are a difficult beast to pull off well. There are tons of low budget horror films released each year, some to theatrical release and many directly to home video and streaming. What most horror films have in common as a weakness is an over reliance gore and explicit violence intended to shock an audience. Of course that very over reliance dulls any effect of gore and explicit violence, repetition turns the shocking into the mundane. Peele, as writer and director, understands the nature of horror far better than many who have toiled in the field for decades. Horror is a mood, is a sense of wrongness that creates unease. I have once heard horror defines as a knock on the door at midnight and when you open the door, there's a clown.
Get Out is about a likable young man, Chris Washington, going away with his girlfriend Rose for a weekend at her family home. Going to meet the parents is always stressful, but this trip is more so because Chris is African-American, Rose is white and she has not warned her parents of Chris' ethnicity. When They arrives Chris is aware that not only is he isolated in a sea of Connecticut Caucasians but the few other African-Americans in the small town act decided odd and suspiciously servile.
This movie has been favorably compared to the 70's classic The Stepford Wives, and that is not an bad point of reference, though the plots of the two stories are distinctly different. Get Out does not rely upon 'body counts' to drawn the viewer into tension or to raise the stakes. The film is smart and expects its audience to be smart as well. there are details and elements that seems merely odd on the first viewing but later maker perfect sense and without the story stopping to explain them to you. This film is powered by mood and for me really getting into the terror of being alone and the other. The cast are uniformly great at their roles but I have to give a particular shout out to Betty Gabriel who takes a smile and a look and delivers gigabytes of information and terror.
This is a terribly good movie and one that should not be missed.