This is not a movie review but a critique where I give you my opinion on specific elements of the film and story. In this case I will be discussing what did not work for me and why. Unlike a review spoilers will abound and if you want to remain unspoiled stop reading now.
Synopsis: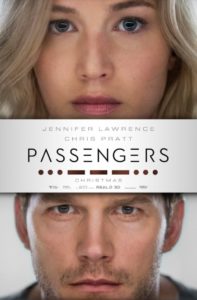 Passengers is an SF movie about an extravagantly luxurious colony ship en route from Earth to the colony of Homeworld II. The ship travels at about half the speed of light and the journey is expected to take over a hundred years. because of this the crew and passengers are in cold sleep, the lives suspended between life and death for all but the final four months of the trip. The ship encounters that tired trope of SF movies, a meteor storm and in damaged. Cascading failures results in a passenger, Jim Preston, being awakened from cold sleep. He discovers there are more than 90 years until they reach Homeworld II and there is no way for him to return to hibernation. Jim will spend his life alone on the ship, never reaching the new world. After little more than a year, his will breaks and he awakens another passenger, Aurora Lane, a beautiful writer and lies to her telling her that her cold sleep pod malfunctioned as his did. They get to know each other, they fall into a romantic/sexual relationship, and then of course the lie is exposed. Of course she reacts angrily and they live separate lives, time-sharing the android bartender for company. A third person awakens, a ship's crew member. He discovers some of the information about the nature of the ships damage and malfunctions, passes to them the access to the secured areas and then dies from his faulty awakening. Together Jim and Aurora discover the precise damage and what is required to fix the ship. Jim is nearly killed but Aurora saves him. Jim discovers that with the Crew Chief's access he can put Aurora back into hibernation using the ship's ONLY autodoc. She refuses and stays with him. Ninety years later he crew awakens to discover the ship changed and the record Aurora left behind as both have died of old age.
This film has a number of glaring problems and failures in execution. Unlike the movie I watched the night before, Get Out, Passengers becomes worse the more I consider it. Of course let's get the monstrous sin out of the way first; Jim waking Aurora is an evil act. Perhaps you can understand his motivations, driven to near madness by isolation is a powerful thing, but understanding and excusing are two radically different things. Jim kidnapped Aurora from her life and forced her to live his. He did this to satisfy his needs and his desires. Some have called her eventual reaction to him 'Stockholm Syndrome' and I can't argue with that. I am sure the writers think of it as love, but it's hard to buy that when she has no choice and no options.
Next up on the great fail parade is the nature of the two characters. Jim is going to Homeworld II because he is a mechanic and no one Earth fixes anything anymore. He is going to fulfill his professional need to build things, and there he will help build a new world, a new society. Aurora is also going to fulfill a professional need. She is searching for the story that will allow her to outshine her father a great and award winning writer as well. He plans were to go, spend a year there and return, half slept through more than two hundred years for the chance at this great tale.
On the surface these characters seem to be treated very much alike, but they are not. With Aurora we get little video messages from her friends she has kept spelling out that what she really needs is not a great jump professionally, but someone to fill the hole in her heart. To be a complete person she must find love, but Jim has no such lacking or hole in his heart. Going there to build is enough. This is a classic bit of bad writing when approaching female characters. Their needs are too often about finding emotional completeness, and they find that in a man.
Another failure in executing her character is that Aurora has no agency in her storyline. I don't mean that Jim forces her into the situation, but after she is awake and supposedly a full character she has no decision points, no action of hers material advances her story or her plot line. Her only meaningful decisions are about Jim and accepting him back or not. Everything about who she is gets reduced to her call on him. It's crap writing for any character and especially for female characters.
The crew Chief is nothing more that Chief Exposition. he is awakened to grant access to Jim and Aurora, explain the situation, and then die getting his 'mentor' archetype out of the way for the third act. It's lazy, blatant, and boring.
There are also the plot holes in the story.
There are no faculties for putting someone into hibernation/cold sleep aboard the ship, but there is a crew to run her at the destination. Did they not need a crew to launcher her? They only need it to bring her into orbit? Also there are no provisions for the crew to awaken during malfunctions? No regular awakenings to inspect the ship for function and damage? This is a terribly designed mission and I would not step aboard for that flight.
Passengers is a failed film that looks good and competently acted, but at its heart it is stupid and immoral.