Logan is reportedly the final outing for Hugh Jackman as Logan/Wolverine and Patrick Stewart as Charles Xavier and it is fitting conclusion for the association of these two talented actors with their icon characters.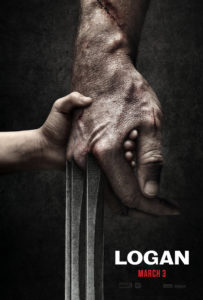 This movie is not one for the children. It is rated 'R' for language and violence. In the source material Wolverine is a violent character and the illustrations usually hint of the terrible carnage wreaked by his claws. For this final film the carnage is explicit. Limbs are severed and decapitations abound. However the film is not an exploitative exploration of how much gore can fit onto an IMAX screen. In fact compared to most zombie movies post Dawn of the Dead the blood and dismemberment is positively restrained.
The themes are friends, family, and the dichotomy between what life has made us into and what we choose to be. It is set in the future of the X-Men/Mutants franchise (Which is not part of the Marvel Cinematic Universe. Different studios, different film rights involved.) and for the most part the gifted mutants have vanished from the world. Logan and Charles live in hiding, the days of heroism now a thing unspoken. A mysterious aliment has weakened Logan who now makes his living as an upscale Uber-style driver. Into this reclusive life comes Laura, a laconic young girl, troubled, hunted, and with a secret. Suddenly thrust into danger and trying to refuse call to heroism Logan is forced to confront his and Charles' past and the ghosts of their actions.
This film hardly belongs in the category of 'superhero' movies. It is a rich character drama drawing its power from compelling characters, a tight, taut script and terrific acting. It is no surprise that veterans such as Patrick Stewart, Hugh Jackman, and Richard E. Grant imbue their performances with heart and nuance but throughout the film I was stunned by Dafne Keen as Laura.
Dafne tackles a part that many adult and experienced actors would find difficult. Using only her eyes she conveys a range of emotions many thespians are unable to achieve. I was reminded of the work of Natalie Portman in Leon: The Professional. I hope that Ms. Keen's career is a full, varied, and satisfying as Ms. Portman's.
From a writer's perspective There are a few minor flaws in the Logan. Elements of Wolverine's mysterious illness left me with problems and some of the 'Chekov's Gun' establishment was too obvious for my tastes, but these and other minor missteps are unlikely to bother people who are not regularly engaged in story construction.
This is a movie worth seeing. If you enjoy your violence loud, and in your face, then see it in IMAX, if you are sensitive to modern movies and their volume levels wait for home video as the mix is full of thumping bass, but the movie is fully worth it.