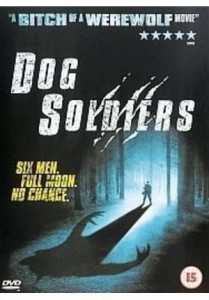 So a while back I was working on a werewolf short story, A Taste Of Tears and Blood, (If fact my writing page horribly out of date indicates that is my current project) and as part of my research I was watching all sorts of werewolf films.
One film I put on the Netflix queue but never got around to seeing as part of the research was Dog Soldiers from 2002. This weekend I had is shipped from Netflix and my sweetie-wife and I watched it early Sunday evening. (I was unable to watch a film later by myself as it my habit because I was so terribly exhausted.) I was a little surprised when my sweetie-wife expressed an interest in the film, gory violent horror film are not her usual cup of tea. She is much more attracted to projects based upon the actors and the nationality of the production. This film had an actor she very much like to follow, Sean Pertwee, son of Dr Who actor Jon Pertwee.
This film was written, produced, directed and edited by Neil Marshall, who has gone to direct such movies as The Decent and Doomsday. If you like or hate Dog Soldiers it's really just one man's fault.
Personally I really liked Dog Soldiers, much more than I had expected. The direct was quite aware of his limited budget and knew the limitations of his production. He stayed very much inside those limitation rather than attempting cheap and cheesy digital effects like we see when we're inflicted with SyFy.
The story is about a fix man army squad that had been dropped into the highlands of Scotland on a routine training mission. The squad is led able veteran Sgt harry Wells (Sean Pertwee) with the capable assistance of Private Cooper (Kevin McKidd of ROME) a young man recently bounced from Special Forces training for ethical reasons. The squad quickly find themselves in serious trouble when they are confronted with a werewolf pack and all the squad is armed with is blanks.
There is one wonderfully British moment when the squad has found temporary safety, and Cooper temporarily in command is ordering men to do this and do that to secure the building and orders the last man to 'put a kettle on, we can all do with a cup.'
My biggest quibbles with the film is occasionally the characters posses superhuman capabilities and survive the sort of events no human being has any business surviving. That said the film transcends these fault by having neat and interesting characters, a nicely thought out premise, and a relentlessness about the doomed  situation the characters find themselves in. I was disappointed that the Blu-ray disc did not have any bonus feature on it.  I searched on line fro a collectors edition or some such, but none was to be found.
Surprisingly the gore in this film was restrained. There was lots of blood thrown about, but only a few shots of graphic violence. Again I think this was a function of the director understanding his limitations and using them to his advantage rather then foolishly ignoring them
I look forward to seeing more movie from Mr Neil Marshall.