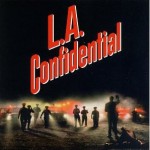 I apologize for the long absence of my regular feature, Sunday Night Movie. The last several weeks have been filled with all sorts personal issue and drama leaving me too tired and and wrung out to watch movies, much less blog about them. I am happy to report that things seem to be getting back on an more even keel and life is slowly returning to normal.
Sunday afternoon I picked a copy of L.A. Confidential on blu-ray. I already owned the film in the DVD format, but the blu-ray was well prices and came with numerous new bonus features. I spent Sunday afternoon and evening digging through the bonus feature, before settling in to watch this film I love once more.
This is a sprawling complex character -driven movie and one that should have won Best Picture in 1997. (The nominees were As Good as It Gets, The Full Monty, Good Will Hunting, Titanic, and L.A. Confidential. Titanic won, but it did not deserve the prize in that line-up.) Based on the large — and many ways inferior — novel by James Ellroy, LA Confidential is the story crime, corruption, and illusion in L.A. in the 1950s.  The film had a modest budget for 1997 — 15 million dollars — and few stars. Kevin Spacey had just the year before won an Oscar for his role in The Usual Suspects (I another film I adore) Kim Basinger and Danny DeVito were well known, but cast here in supporting roles. (Kim Basinger went on to win an Oscar for her performance in L.A. Confidential.) The remaining lead actors in the films were at that time unknowns to the American Public, Russell Crowe and Guy Pearce. Two Aussie actors who have go one to be stars and leading men in their own rights.
L.A. Confidential is a rich and powerful period crime story that is clearly set in the 1950s, but without the saccharine sweetness of nostalgia.  It is a film that in many ways is a revival of Film Noir, but without looking like it was a revival. It is dense and complex and expect the viewer to be smart enough to follow along. It doesn't backdown from racism and classism of the period without resorting to preachiness and lectures. It lets the characters be who they are true to their fault and their culture. Photographic with gorgeous colors and detail this film is a feast for the eye, told expertly and with stunningly powerful action it is a feast for the brain, the music, both period and original is pitch perfect.
I cannot recommend this film enough.