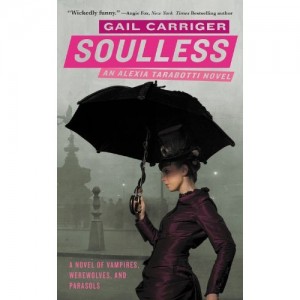 My friend Gail Carriger has her first novel, Soulless, hit the stores today. I am so very happy to see this happen. I met Gail — a pseudonym but one I shall honor here — five years ago at a Science-Fiction convention at a panel on writing. She's a woman with brains and talent and a wicked sense of humor. All of which she has put into her novel.
I am not jealous of her success, but I am rather encouraged by it. You hear tales about how the industry is closed and the way to break in is to know someone. To network at conventions and thereby get an editor or someone else to notice your work.
Yes, it can be done that way, but it's not the only way. Gail's book went into the slush pile without any agents or networking. In the end it is always the writing that sells the story and nothing else. If my stuff isn't selling either I haven't found the right editor — and that is a component as well — or my writing simply isn't good enough, yet.
I'm not normally a fan of fantasy. I'm much more of an SF kind of reader, but I do like funny fantasy and that's why I feel perfectly fine in recommending Soulless. Gail brings her unique wit and viewpoint to tropes that other simple noticed and Gail shows you the other side.
You can find her website in my blog roll, and it's worth a  read as well.
Gail, congratulations! You go girl!