In the afternoon we were taken to the vehicle room. Here they had on display 'hero' vehicles used in WB productions. By hero vehicles they mean the car and such that were used in normal shots, not in stunt photography. These vehicles were the actual ones. not reproductions.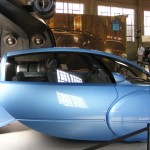 Here is a car and a flying vehicle used in the movie A.I. I'm a genre fan but it is a film I have never seen.
,
,
,
.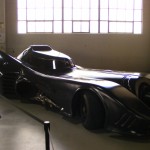 Here is the Batmobile used in the two Tim Burton Batman movies.
.
.
.
.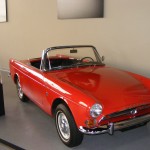 The Sunbeam convertible used the feature film version of Get Smart.
.
.
.
.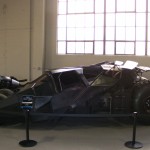 Here is the Tumbler used in Christopher Nolan's reboot of the Batman franchise, Batman Begins and again in The Dark Knight.
.
.
.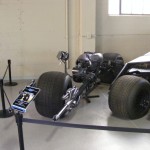 And the Batpod also used in The Dark Knight after the Tumbler is destroyed.
.
.
.
.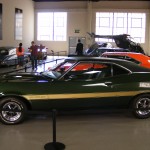 Here is the Gran Torino from Clint Eastwood's film, Gran Torino. Beyond you can the General Lee from the film version of The Dukes Of Hazzard, and beyond that a hint of the sedan from the Matrix films.
.
.
.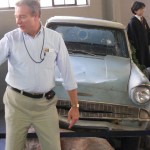 Our tour guide in front of the flying car — it doesn't really fly of course – from Harry Potter And The Chamber Of Secrets.
.
.
.
.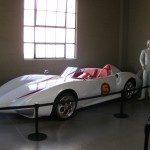 .
The Mach 5 from Speed Racer.
.
.
.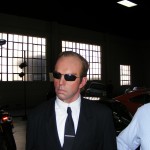 Hugo Weaving was filming some Matrix related materials and showed up in the vehicle room. No, he didn't – this is a Hugo Weaving dummy. They made a lot of these for the duplication scenes in the recent Matrix films, but it looked too good not to get a picture of it.  There were more of these in the museum, but I discuss that and the prop and costuming departments in my next post.