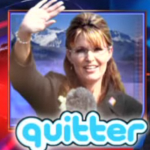 So yesterday was Sarah Palin's last day as Governor of Alaska. I, for one, will not miss her and I feel she has now, happily, taken herself out of any serious running for President in 2012 and hopefully beyond.
I listened to her interviews. I listen to her speeches and I have come to the conclusion that she does not have the intellectual chops for higher office. This is all besides and beyond personal issues I have with the woman and her election methods and style.
I realize that there are readers of this blog who are and remain Palin supporters. That is a choice you are free to make and I would defend against all attackers your right to make that decision.
h/t to The Daily Show for the wonderful photomanip for her send-off.